Tree Crown Maintenance Services
From the Experts at Excel Tree Care
Are You Dealing With Overgrown Or Unhealthy Trees On Your Property?
If so, the tree professionals at Excel Tree Care can help with crown maintenance!

A tree's crown is the top part of the tree and encompasses both the leaves and branches. It is extremely important to keep up with tree trimming and crown maintenance because you want to keep your trees healthy and your property safe and looking nice. If you find that your property is in need of tree maintenance, we serve customers in the Atlanta area and beyond!
The Importance of Tree Crown Maintenance
Overgrown tree crowns look messy and are distracting to your property. Part of retaining property value is keeping up with your property's curb appeal so if your property contains trees, it's important to regularly maintain them. Proper pruning keeps trees from looking overgrown and neglected because it encourages better production of flowers and fruits.
Crown maintenance isn't only important for cosmetic reasons and that is because overgrown trees often pose safety hazards. This is because large or diseased branches can potentially crack and fall, which can injure both people and property.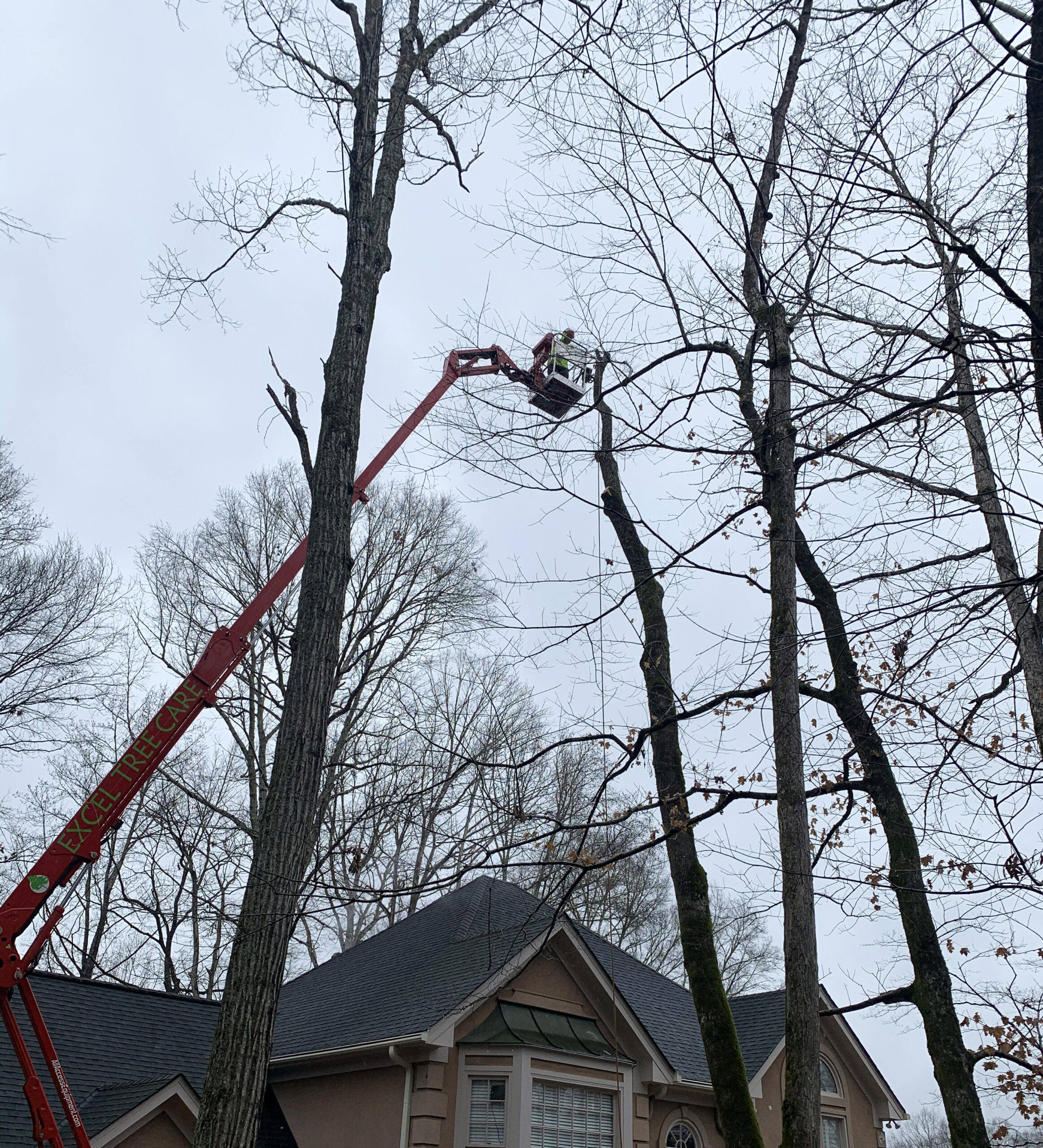 In addition, it is healthy to regularly maintain trees because pruning encourages tree growth by removing dead and diseased limbs. Regular tree maintenance also helps to identify whether trees have experienced damage, contracted a disease or been attacked by insects. When this happens, trees can pose a threat to both people and property so it's important to identify any issues and rectify them as soon as possible.
Tree Crown Maintenance Services
Excel Tree Care is here to provide tree maintenance services that keep your residential property looking great while keeping your property and everyone occupying it safe and sound! To help with this, Excel Tree Care offers the following tree services.
Crown Thinning
If your trees are looking overgrown and you desire more light and air movement on your property, crown thinning is the service for you. Excel tree care offers crown thinning where a tree's crown is thinned through selective removal of stems and branches.
It is important to hire a professional for these services because you want to thin the crown of the tree without altering its overall shape and size. Crow thinning is also important because in increasing light and air movement, the environment becomes uncomfortable for pests so you will be less likely to deal with pest issues.
Crown Reduction Pruning
Tree crown reduction involves reducing the height and spread of a tree's crown through removing weight from the end of branches. This method of tree maintenance is meant to reduce tree stress and help adjust a tree's size so that it is more suited for its environment. It is also done in order to reduce the effects of shading and light loss.
Crown reduction pruning is helpful for getting oversized trees under control and for bringing dying trees back to life. It is important to keep up with tree maintenance because when a tree grows too large, its top limbs will start to die. Dead limbs are a safety hazard because they can fall and injure people and property. Deadwood can also attract pests such as termites and carpenter ants, which can prove hazardous to both your trees and nearby buildings.
Tree Crown Cleaning
If you are looking to prevent tree decay and improve tree health or you are wishing to improve a tree's aesthetics, tree crown cleaning is the service you are looking for. Tree crown cleaning involves removing dead, broken, diseased or weak branches.
It is important to remove defective branches because if not removed in a timely manner, dead or broken branches may negatively affect the overall health of the tree.
Tree Crown Raising
Tree crown raising specifically removes the lower branches, which gives the impression that a tree's crown has been raised. Crown raising is often done to create head height clearance for buildings, vehicles and signs. It is also done to increase yard light for better planting and grass growth. Tree crown raising should be handled by professionals and is best accomplished gradually over many years.
Proper tree care takes training and skills because cutting off too many branches can negatively impact a tree's health. Attempting to handle your own tree maintenance can also be dangerous especially when using ladders and cutting equipment, which is why it's best left to tree professionals like Excel Tree Care!
All Natural Tree Services You Can Depend On