Excel Tree Care Offers Tree Services for Johns Creek, Georgia
Licensed and Insured
We employ the latest techniques in tree removal, pruning, stump grinding and more!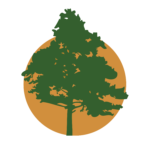 Tree landscaping offers benefits such as increasing the value of your home or business. On the other end of that spectrum is the fact that poor landscape design can do the opposite and actually diminish your property value. That is why it is important to always keep up with your grounds maintenance. In regularly maintaining trees and shrubs with trimming and pruning services, you will help keep them healthy and beautiful. When neglected, trees can develop points of decay and not only become an eyesore but pose safety hazards as well. Whether you are looking for tree care professionals for maintenance such as trimming, pruning or stump grinding (or find yourself in need of tree removal services to safely dispose of a rotten, damaged or unsightly tree) Excel Tree Care serving Johns Creek can assist!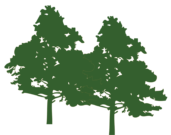 TREE MAINTENANCE SERVICES
Tree maintenance services like tree trimming and crown maintenance is an important component to your property's health. Keeping up with tree maintenance not only keeps your property looking its best, but is an important part of protecting people's safety. Many property owners often want to handle tree trimming themselves but this isn't always the best option. Tree trimming should always be left to the professionals as to avoid unnecessary injury to you, yourself or your property. When tree trimming isn't completed by a professional, it can lead to common mistakes such as spreading tree diseases, unintentionally causing tree wounds and improper trimming. Many people that try and do it themselves don't realize that there are many different types of tree trimming. If interested in obtaining tree maintenance services like trimming for your Johns Creek home or business, Excel Tree Care offers the following types of tree trimming services.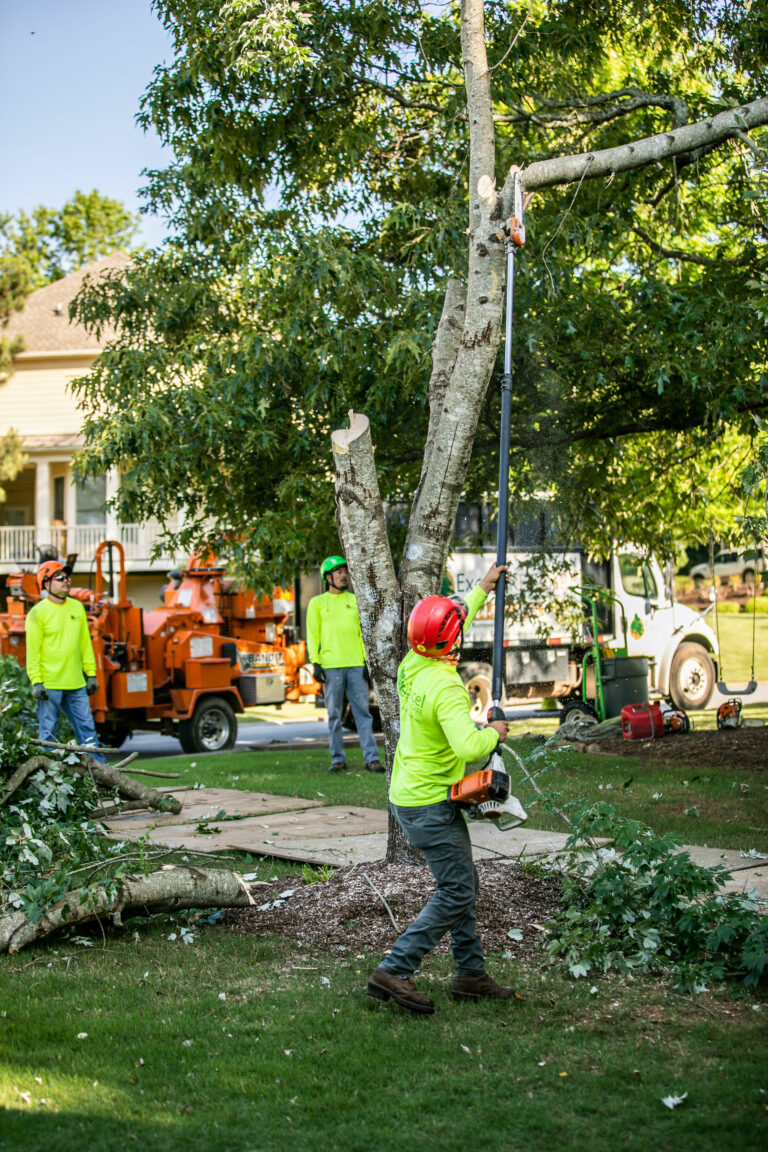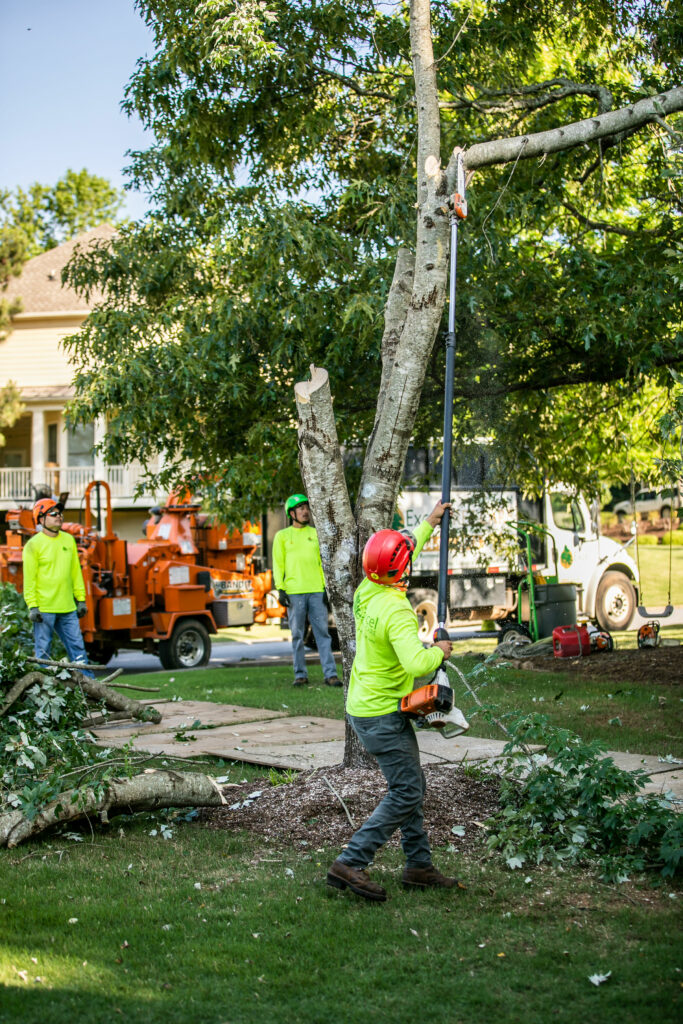 Tree Crown Cleaning
If you are looking to trim up any mature trees on your Johns Creek property in Georgia, you may be interested in crown cleaning. Crown cleaning involves the removal of any dead, diseased or excessive branches. Cleaning the crown of a tree promotes healthy foliage and eliminates safety hazards by removing any dangerous branches.
Tree Crown Raising
If your tree is looking healthy but you are looking for more clearance under a tree for people and property or you wish to allow more light through your tree's canopy, you will want to inquire about crown raising. This is when the lower branches of a tree are removed in order to raise the crown of the tree.
Tree Crown Reduction
When a tree begins to outgrow its space, crown reduction may be the answer. Tree crown reduction is most successful when performed on healthy trees that have yet to become overgrown. Tree crown reduction is also best left to the professionals because if done improperly, it may leave the tree susceptible to decay and disease.
Tree Crown Thinning
If you want to improve a tree's appearance, allow for more light penetration or increase the air flow throughout a tree's crown, consider crown thinning. During the crown thinning process select branches are removed to thin out the fullness of the tree so that it retains its shape and size.
If you are in need of tree or tree limb removal for a Johns Creek area home or business, Excel Tree Care is the company for you. Whether you have identified a rotten or damaged tree, or find yourself dealing with a tree emergency, the tree professionals at Excel Tree Care can help. At Excel Tree Care, we utilize the best tree removal techniques using the latest rigging equipment in order to safely remove trees without impacting your property.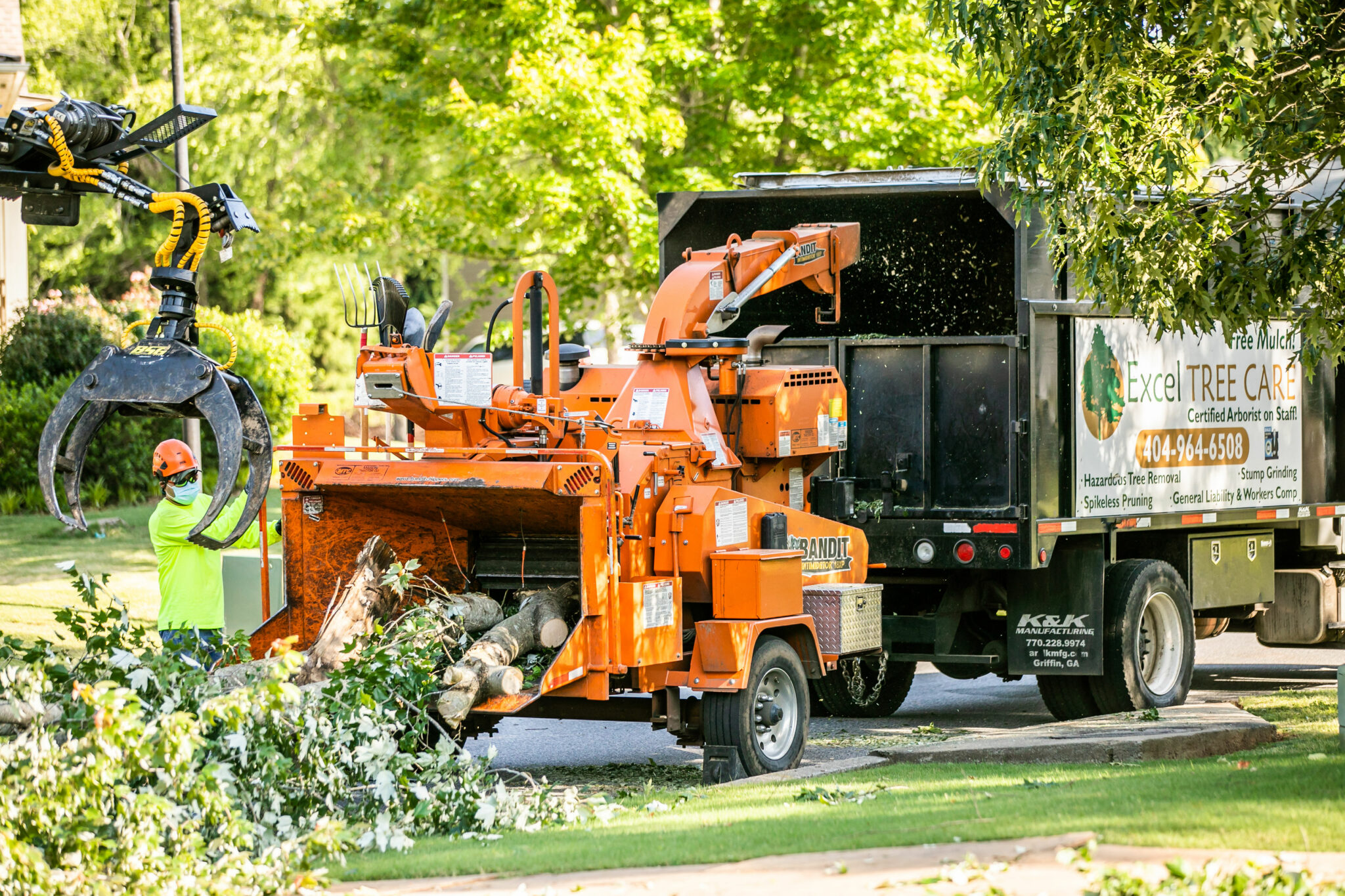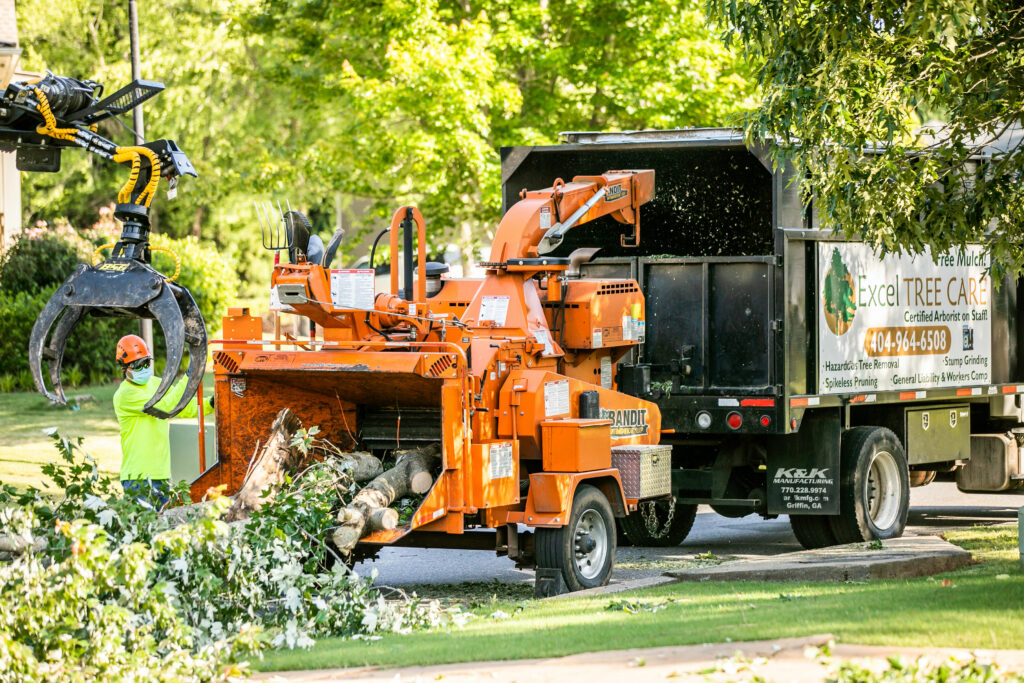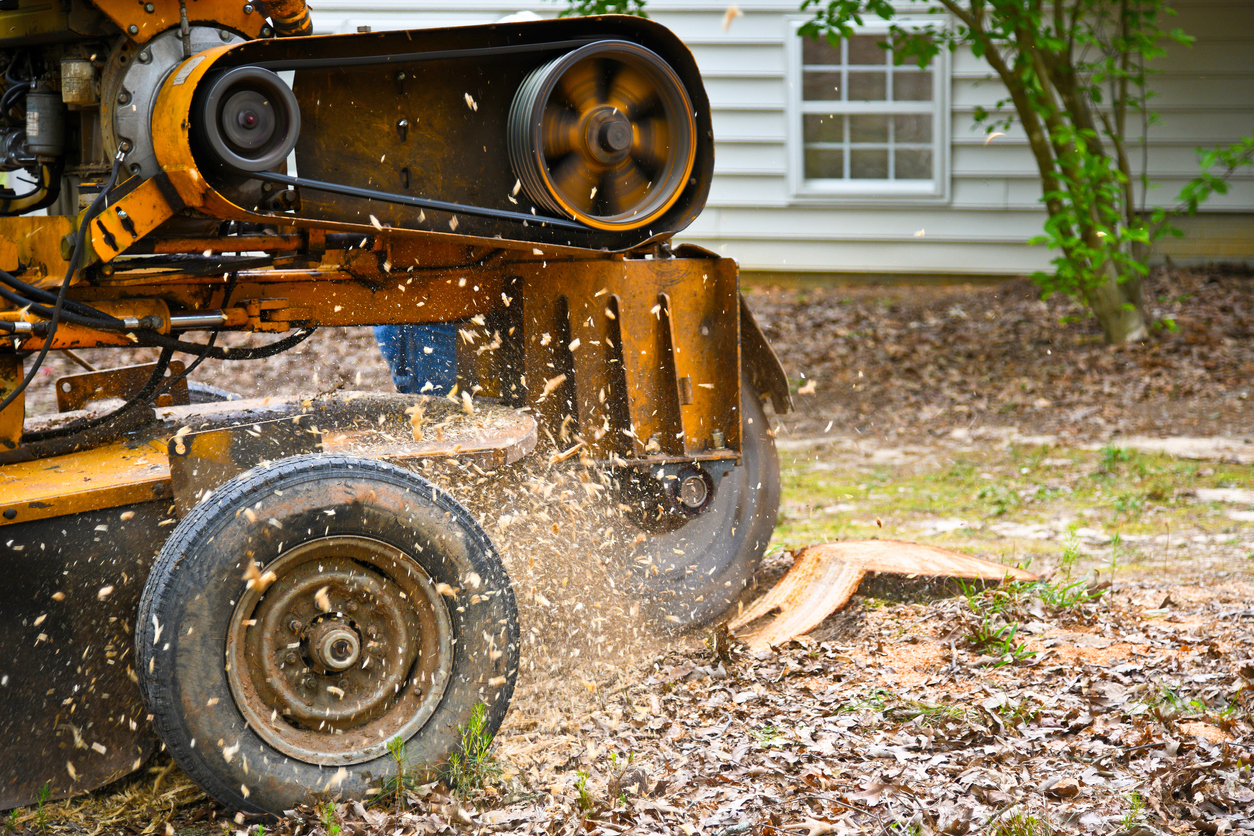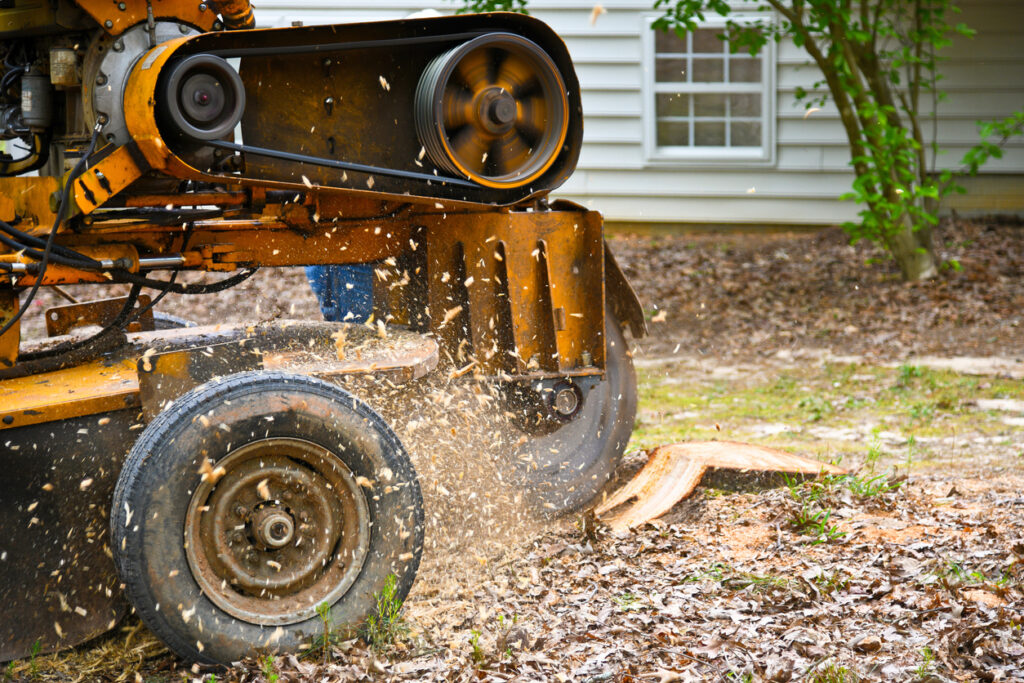 Once a tree falls or is cut, property owners are left with an unsightly stump. Tree stumps also pose a safety hazard to anyone walking or playing on your property because they can easily be tripped over. Tree stumps also serve as a breeding ground for destructive pests that could eventually infiltrate your home. If the tree was diseased prior to being cut, the stump can still allow for the disease to spread to other vegetation. A tree stump's roots can also continue to grow even after the tree is cut, which can penetrate pipes.
Johns Creek Emergency Tree Services
Many people believe that a tree emergency consists of cleaning up trees that have fallen over. However, there are many situations that warrant an emergency tree call. For instance, if you notice that a tree on your property is leaning abnormally, it is important to contact an arborist to inspect and recommend a remedy for the situation. A leaning tree is especially important to address if the tree is leaning over a walkway, common area or building. Other issues that warrant a call to your local tree professionals include the identification of fungus or decay of tree roots, a tree's close proximity to power lines, dead branches or damage to the trunk. If it is determined that you require tree removal services, you are in good hands with Excel Tree Care.

Why Hire Excel Tree Care?
Excel Tree Care offers the best tree services in Johns Creek, Atlanta and the surrounding areas. At Excel Tree Care, we guarantee the best results for you and your property. Excel Tree Care is fully licensed, insured and certified for quality assurance.
To inquire about our tree care services, call 404-964-6508 or send an email to tyler@exceltreecare.com. We look forward to the opportunity to help with your tree trimming, removal or stump grinding needs.