Tree Removal Services
From the Experts at Excel Tree Care
Do you have damaged, dead, diseased or hazardous trees on your residential or commercial property?
If so, the Atlanta tree removal experts at Excel Tree Care can provide safe and efficient tree removal services.

Damaged, dead and diseased trees can be hazardous to people and property because they can easily fall. Fallen trees can cause damage to homes, vehicles and more importantly, they can cause serious injuries to people. This is why it is imperative that hazardous trees be taken care of right away. As an Atlanta area property owner, it is wise to invest in tree removal because the damage and injuries they may cause can be more costly than handling the situation before anything negative happens.
Benefits of Tree Removal Services
Provides Safety
As previously mentioned, it is important to remove old, damaged, dead and diseased trees from your property. Removing these damaged trees greatly reduces the risk of an accident such as a tree falling on your property. By hiring a tree removal company like Excel Tree Care, you are removing the possibility of a tree damaging your property or causing an injury to you, a family member or guest.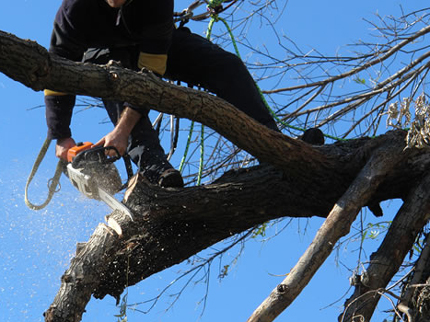 Helps Preserve Foundation, Driveways, Sidewalks & Plumbing
The root zone of a tree can be extremely large and as it grows, it can lift and damage concrete structures like your home's foundation, driveways and walkways. Tree roots can also damage and clog underground pipes since trees naturally gravitate towards water and plumbing lines. This type of damage can be very costly so it is often best to remove encroaching trees before they cause damage.
Keeps Your Yard Healthy
If the reason you are seeking tree removal services is because you are dealing with sick trees, it's important to note that diseased trees spread disease. Often tree disease consists of a powdery mildew, which is an airborne infection that can easily spread and impact other trees and plants in the area. Once the spread occurs, it can be very difficult to identify so it is best to hire a professional to nip the problem in the bud at the first sign of tree sickness.
Promotes a Pest Free Environment
Removing dead or decaying trees is extremely beneficial for pest prevention. This is because deadwood often lures in scavenging pests like rats, termites, wood borers and carpenter ants. These pests and vermin can also negatively impact more than the dead trees in your yard as they have the potential to intrude into the foundation of your house.
Improves Property Value
Tree landscape design can hurt or help your home's value. In fact, if your property possesses poor landscape design, it can set back your home's value by as much as 10 percent. Elements of a poor design may include trees that are too close to buildings or fences as well as trees that are dead, dying or diseased. Removing unsightly and damaged trees can also provide better views and improve the curb appeal of your home, which can also contribute to boosting property value.
Why You Should Always Hire Tree Removal Experts
Tree Removal can be extremely dangerous if you don't know what you are doing so in hiring professionals, you are guaranteeing the safety of yourself and others. Tree removal experts know what they are doing and have the right tools to get the job done in a safe and efficient manner.
Using a professional tree removal company like Excel Tree Care also ensures your property is protected because licensure and insurance is carried by the business.
Tree removal specialists also have the expertise needed to ensure trees are properly and completely removed. Leaving a stump behind may seem fine but over time, can begin to rot making it a perfect home for damaging pests.
Tree care professionals also make it a priority to protect remaining trees and shrubs from being damaged during the tree removal process. They will also haul away all of the tree's roots, trunk and branches, which will leave you with zero mess.
As you can see, it is much safer to use professionals when removing a tree from your property. It will also be less time consuming and efficient for you to call upon the expert so if you are in need of tree removal services in Atlanta or a surrounding area, contact Excel Tree Care for a free estimate!
All Natural Tree Services You Can Depend On