Professional Stump Grinding Services
From the Experts at Excel Tree Care
Are You Dealing With An Unsightly Tree Stump In Your Yard?
If so, the stump grinding professionals at Excel Tree Care can assist!

Stump removal is important to protect the appearance of your property as well as its value. Stump removal services can also ensure greater safety for guests and family members. At Excel Tree Care, we offer stump grinding services that are designed to improve your property and that help you avoid issues that can arise from stumps being on your property. We serve northern metropolitan Atlanta with reliable tree and stump removal services designed to help you feel proud of your property.
Stump Removal is Important
There are a number of reasons to invest in stump grinding services to get rid of the remains of fallen trees in your yard or property. If not removed, stumps can cause a number of issues: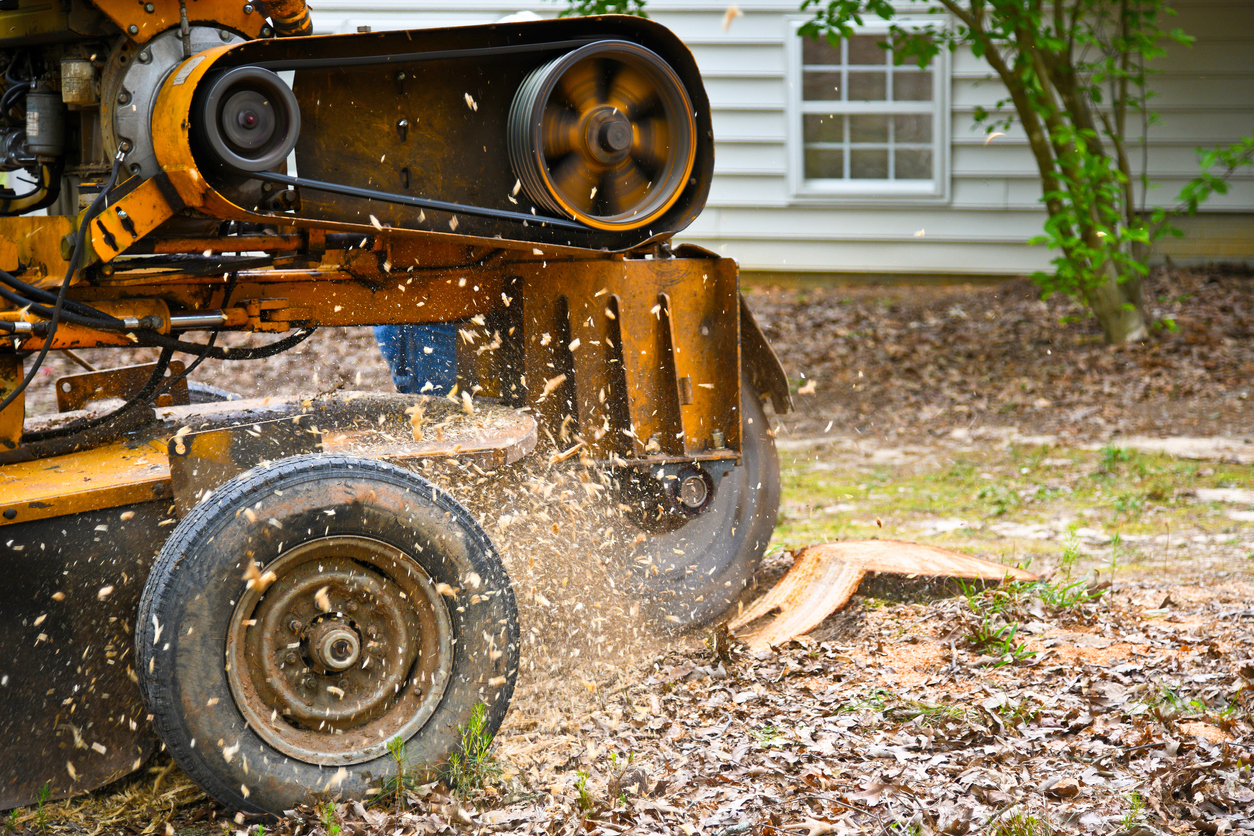 Stumps can significantly reduce the curb appeal of your property. This can add up to lower property values for your home at the time of eventual resale and can reduce the enjoyment of your Atlanta home.
Decay and fungal growth are also associated with rotting wood and can pose health threats to pets and children who play in the yard. Insects are often attracted to stumps as well, which can make your property a less pleasant place to relax.
If the roots of the stump are not completely dead, they can potentially grow into areas that could cause damage to pipes leading in and out of your Atlanta area home. In some cases, roots may grow under nearby sidewalks to create buckling or damage that could be dangerous for those traveling on these walkways. Additionally, new tree growth can sometimes sprout from the stump, which can present added problems for your landscaping arrangements.
A stump may also pose a safety hazard for guests or children at play. Tripping over these obstacles is possible at any time. It is far more likely, however, if your grass or landscaping obscures the presence of the stump.
Reasons You Should Hire a Professional Stump Removal Company
Excel Tree Care offers the Atlanta stump removal services you need to protect yourself and your property from the damaging effects of these unsightly and unsafe obstacles. We have the experience and equipment needed to grind down stumps and dispose of them safely. It can be very dangerous to attempt to pull out a stump using your personal vehicle or to chop it up using an axe or chainsaw. Even if you are able to rent the proper equipment, the operation of dangerous power tools such as stump grinders without proper training can lead to serious injuries. This is why you should always leave hazardous tasks like stump removal to the experts.
Our team at Excel Tree Care offers professional stump grinding for Atlanta area residents to take the stress and worry out of the stump removal process. We perform all necessary cleanup after the removal is completed to allow you to enjoy a clean and beautiful yard once again.
At Excel Tree Care, we are a licensed tree removal company with a certified arborist on staff to ensure the best services for you. Our team can deliver the stump grinding services you need to keep your home looking its best. Give us a call today at 404-964-6508 or email us at tyler@exceltreecare.com to schedule a consultation with our team. We look forward to the opportunity to serve you.
All Natural Tree Services You Can Depend On